Waking Thursday morning, Nicole and I came to the realisation we had become stuck in a time-warp.
Arambol had become for us a safe haven; comfortable, familiar and rejuvenating. Even the local hawkers had begun to recognise us by face and had changed their banter from trying to sell us things to getting to know us instead. This feeling of contentment was helped in no small way by the discovery of a recently opened establishment called the Laughing Buddha. Owned by a Lancashire man called John, this beach bar and set of huts was run like a tight ship. The accommodation was styled and clean, the service was professional and attentive and the food… the food was most excellent! We checked into the Laughing Buddha for our last few days in Arambol and I would heartily recommend it to others passing through.
Finally, however, we realised it was time to move on. This was, after all, a journey of discovery that we were on. We set off about noon in the company of two Austrian girls; Lydia and Theresa. They were staying in the hut next to us and had chosen the same day to make the trek some 20KM south to Vagator which is the next large beach along.
As luck would have it of course it took us nearly twenty minutes to locate a taxi, despite having been hounded to take one every time we left a hotel for two weeks solid!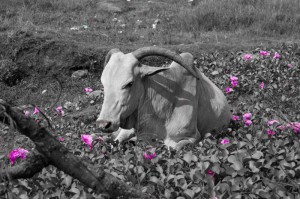 –          Goodbye Arambol
Eventually we were away and I settled into watching the scenery slip by as the taxi wound its way along the coast.
It wasn't long before we made the approach into Vagator. This small town was much more spread out, and its houses appeared better maintained than those in Arambol, with brightly coloured, fresh coats of paint highlighting the hotels that we sped past.
Our previous concern with securing booking before we turned up somewhere new had been dropped in favour of a more relaxed 'turn up and see' attitude. This, in practice, is a much better plan anyway as it allows us to make sure the rooms are in good condition, and usually negotiate a better rate than if we book online.
Stopping for lunch with the girls first, we spent a few hours dining, drinking and discussing the various tips that we had all picked up along the way. The girls had been working up in the mountainous north on a farm and had been living a much more frugal existence than us; really making every rupee count. Tales of washing their clothes in buckets of cold water and hoisting heavy loads up the mountains as mules overtook them with even heavier burdens made us realise how much we had left to see and how comfortable we still were! When we said our goodbyes, Nicole and I asked the waiter which good hotels were near-by. The waiter, a Sikh lad in a turban and a Manchester United shirt, pointed us down a nearby track to a well presented complex of small but pleasant rooms. The establishment was a little more upmarket than anything in Arambol, and not only did we have hot water but we had AC. I guess it will be a little while longer before we begin to rough it as well as Lydia and Theresa did.
That night we ate at a small restaurant at the top of the track called the Nirvana Cafe. It offered simple Indian meals and we both had some delicious curry. At midnight, we retreated to our cool bedroom and I was out like a light.
This morning we rose and planned our day. We were to take a short walk down to the beach and from there we would be able to walk north to Fort Vagator which overlooked the beach and town.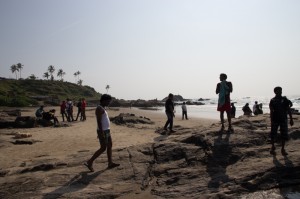 –          Vagator Beach and the busloads of tourists.
Arriving at the beach we pushed past throngs of Indians who were walking about on the rocks. More people were arriving every minute, being shipped in on large buses most of which were a little too large to traverse the narrow roads. We looked up at the fort which was high above us on a hill and decided we should find another way up there. Not only was it blisteringly hot and the route up the hill very exposed but the ascent would be steep and a quick look at our map showed a back-road which ran up to the fort another way. It seemed longer and involved heading back through the town but I expected it offered more cover. Sure enough, this route was shaded with tall trees and palms but as we got further out and we saw the fort this time much higher and even further away than before at the beach. Revaluating our position, we retreated into town.
It became clear at this point that the only way we were going to visit all these places on the map was if we were to hire a bike. So far I had managed to avoid this as the idea had been a little intimidating, not so much the riding of a scooter, which I had never done before, but the driving in India has a certain… well, style might be the most appropriate word for it, and it takes a little while to get familiar and orientated with this.
Approaching our hotelier, I negotiated a rental for RS250 for the day and set off up the road solo for a half hour or so till I had the hang of it. At one point, a herd of cows came toward me and I had to slow right down. That was until one cow mounted another and they careered left and right in the road, steaming toward me, madness in their eyes! Quickly, I throttled up and darted around them leaving the horny cows in my wake.
Collecting Nicole, I had a bit more practise this time with her on the back. The weight changes completely on these little mopeds when you ride pillion but I soon had the hang of it.
The afternoon was now getting on and so we decided to defer the ascent to the fort to the next day and instead take a ride down to Anjuna Beach which is supposed to be a local party hot-spot. We set off down quiet country roads at a slow and measured pace as other more confident scooters overtook from time to time. We passed through beautiful landscapes and the countryside came alive as we wheeled past. I can see why so many people get onto bikes as it opens the world.
On arrival in Anjuna, we set off down the beach and I snapped a few shots of the beach which steeply descended into the sea. In the distance stood on a rocky outcrop was a fisherman with his pole. The sea had already come in around him, yet he seemed content enough to stand there on his tiny island of rock.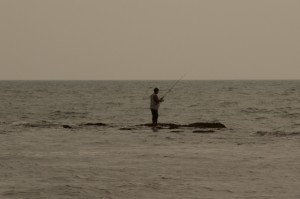 –          Only in India…
As we walked back along the beach we saw the sun was beginning to set, and so we began a hasty retreat, ensuring we arrived back at Vagator as the sun dropped behind the horizon on the Arabian Sea and night closed-in.