Stepping out of our guest house in to the midday sun, we were struck by the humidity. The thermometer already read 36 degrees and we were in need of refreshment. We moved slowly, cautiously across the pavement on to the main road. Today was Pi Mai -Buddhist New Year – which meant a lot of different things to different people: cleansing, purification, new beginnings, a fresh start. But to every Laos person, regardless of age or social background, it meant water fight. Lining both sides of the road were Laos and Falang (foreigner) alike, armed with their proudly procured weapons. These included water guns, buckets, jugs, pressure washers, washing up bowls and hoses to name but a few. Nobody was safe today and little did we know that the Laos people had a few other surprises up their already soggy sleeves.
To reach the Mekong river and our chosen cafe we ducked behind pick-up trucks. Luckily for us this is the vehicle of choice for many Laos people (If we had been in India, the Suzuki Altos wouldn't have provided much cover). We then headed for Dara market. The plan was to move stealthily through the indoor market and try to reach the main market street untouched. We made it through and paused for a breather to assess our next moves.
Standing on the raised corner behind us was a little Laos girl armed with a super-soaker. We waited on the pavement plotting our route. The little girl didn't register our arrival; water gun poised and her eyes fixed steadily on a target on the opposite pavement. Confidently, we strode forward only to be soaked from behind by the grinning, little girl making the most of her vantage point. Pi Mai had begun. Dodging attacks from left and right, we arrived at the main intersection relatively unscathed until another young girl appeared with a bucket and emptied it over my head with a giggle.
Relaxing by the Mekong we ate fried rice and regrouped. Clint arrived and he planned to go with Hugh over the river and watch a stupa being built on the river bank. My plan was to stay on this side of the river and soak up the atmosphere. We parted ways and I wouldn't see Hugh again for another three hours.
I headed left out of the cafe on to the road and this time there were no pick-up trucks or covered markets to provide shelter. Just kerb to kerb soaking and music playing so loud it felt as though the ground was shaking. The charcoal smell of grilled vegetables and barbecued chicken filled the air. The whole city was out to celebrate. Many of the Laos people were apologetic when tipping bowls of water over me but were safe in the knowledge they had cleansed another person ready for the year ahead whilst the children's actions were ruthless; clearly their strategies had been honed from previous years. Cars and flat bed trucks filled the road, crawling along slowly; the suspension being tested by a boot full of people bouncing up and down in time to several different beats.
Further along the river bank the cars thinned out revealing a shimmering road and a view filled with droplets of water. Taking in all the sights, I dropped my guard for a second and missed a boy sneaking up on my right. He jumped in front of me and slapped two floury hands on my face. "Sok dee Pi Mai!" He shouted and ran off to find his next victim. Further along the road I was greeted with sprays of coloured water and when I stopped to get my bearings I saw a riverside bar that wasn't taking any chances that people would stay dry. It has a makeshift sprinkler system rigged up – drinkers and dancers alike were revelling in the cooling spray. The ultimate refreshment.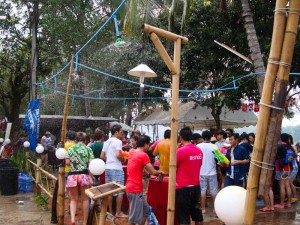 I went to turn right and witnessed a street-wide water fight. Left and right kerbs were hurling water at each other. I wasn't brave enough to run the gauntlet. Instead I continued on to find a stage erected outside a house. On it were two men dressed in traditional female outfits performing a traditional looking dance in a slightly comedic way. One child took full advantage of his height and position at the corner of the stage and each time one of the men got close enough to him, his ankles were thoroughly sprayed from a water gun. I watched this charade for about ten minutes and walked on, taking the next right back on to the market street.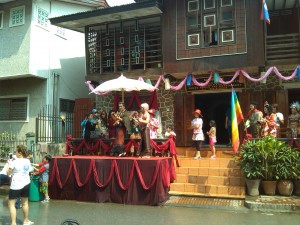 Carnage still ensued despite several hours having elapsed since Hugh and I had initially passed by. Water fighters, rainbow coloured from the grease paint ambushes, were beginning to look slightly weary. Headed back towards the guest house, I bumped into a damp and floury looking Hugh. We both decided a pot of tea was needed before we could head back for showers . We faced the grid lock of pick-ups and flat beds on the enforced one way system and ran for it. Surprisingly we made it to the safety of the tea shop relatively un-soaked (well, anymore than we were already) and chose a vantage point to watch over the proceedings.
The traffic had started to move slowly down the road and we saw renewed vigour in the eyes of those who had been forced to stop next to a young boy with a pressure washer. Water flinging resumed and we saw one girl on the back of a pick-up who embodied exactly how we felt – she had climbed inside a dust bin (presumably once full of water) and pulled the lid over her head. Our sentiments exactly. After five days of random water fights and guerilla style water bomb attacks we were tired, damp and surprisingly chilly. T-shirt wringing was futile, no amount of tea was warming us up and the flour/water mixture had solidified on our arms and face. We called it quits and slunk back to our room for hot showers.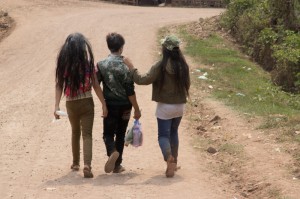 Laos definitely won this round of Pi Mai and I would gladly come back for a rematch.