Before reaching Laos, let alone Vang Vieng, we had heard about tubing. It was pitched to us as an absolute must-do activity. In fact, if some reviews and guides are to be believed it's the only thing to do in Vang Vieng. After some controversy surrounding drunken accidents, tubing in it's original form has all but disappeared with rumours of it having been disbanded completely . It's only been replaced with a cleaned-up version. After hearing all of this though,I still didn't really know what tubing was. The only way to find out, I guess, was to try it.
Upon reaching Vang Vieng we saw bedraggled looking tourists, arms covered in cotton bracelets and marker pen, slopping their way up the main street come dusk. In the morning they were replaced by happier, enthusiastic, much drier looking individuals. What on earth had happened to them?
On our chosen day, Hugh and I donned our outfits of choice – swim shorts and bikini (I'll let you decide who wore what) and headed off to the tubing office. The sign at the entrance informed us that tubing during dry season would take about two hours.  At the first desk we signed a waiver saying we would behave (or else) and at the second desk we paid our deposit. Then our waiver number was drawn on our hand in indelible ink (presumably so they could identify us if anything bad happened) and the waiting group were ushered into a tuk-tuk which whisked us away (top speed 30 miles an hour) to a spot three kilometres upstream.
As we unloaded, the driver handed us a tube – the inner tube of a tractor tyre- and drove off. There were eight people on the rickshaw and we stood looking at each other until a voice offered some guidance, "Come and get your free whisky shot over here!" Nestled under the trees, behind a fence, was a makeshift bar; the first of many on our tubing trip. Walking in, we were handed a shot, followed by a cotton bracelet and left to our own devices. Beer pong was happening to our left and Jenga to our right. Hugh and I opted for Jenga. Sitting down, we got chatting to a couple from Manchester. Hugh took his Jenga turn first only to find out there were instructions on the block. I turned around to find Hugh doing push-ups with a straw in his mouth and half full cup of whisky on the floor. We weren't even on the river yet! Soon after we decided it was time to get going so we slung our rides for the afternoon over our shoulders and headed down to river bank.
Getting in to the tube took several attempts. The manoeuvre wasn't as easy as you might think especially as I was trying not to spill my drink or lose the tube. After several minutes of trying to graciously lower myself into a rubber ring that is moving with the current, I gave up and threw myself at it. I wasn't exactly seated but at least the tube wasn't drifting away downstream without me.
Not long after we set off, there was a cry from the river bank and two Laos boys were waving a plastic bottle attached to a rope. I waved back and the bottle was thrown to me. Hugh grabbed me, I held on tight to the rope and we were pulled in to our first riverside bar. The disembarking process was a well oiled machine and we were pulled out of tubes and up the rocky bank by a series of people as our tubes were simultaneously thrown up and stacked ready for our return. More free shots and bracelets awaited us at the bar. Sitting down at a bench to dry off in the sun, towering limestone karsts and thick jungle foliage surrounded us, providing a breathtaking and surreal contrast to the very western party scene before us.
The bar was noisy  with loud pop music, groups of people and entertainment such as sprinkler basketball (see the sprinkler bar from my last post), hula hooping and a dance area. More people arrived and several hours slipped past while we shared travel stories with our original group from the first bar. Having no idea of the time, we all decided to get back on to the river. Getting back in the tube was easier said than done. In our wisdom we decided to skip the next bar and instead load up on drinks here. Reaching the river bank was not a problem – getting in the tube with drinks in both hands was. We provided a lot of entertainment for the Laos boys. It was also about this time I realised my market – bought shorts had ripped quite spectacularly and I was no longer 'dressed politely' as the locals say. Luckily for me this wasn't the worst of wardrobe malfunctions to happen while tubing.
The river flowed on lazily and we floated along past bars, swimmers, kayakers, fishermen and plenty of tubers. Where the river was shallowest we bumped over rapids and slalomed between rocks that pock-marked the river; paddling and splashing to awkwardly manoeuvre the tube. Other times we followed the meanders, bobbing from left to right.  It was at one of the shallowest points that Hugh floated into a rock and had to stand up to reposition his tube on the river. At the same time a group of kayakers went sailing past and started laughing and smiling. I thought they were just having a good time until I spotted Hugh. His sodden swim shorts had stuck to his legs when he stood up and Hugh was now mooning everyone on the river. Thankfully those free whisky shots had taken the edge off the situation.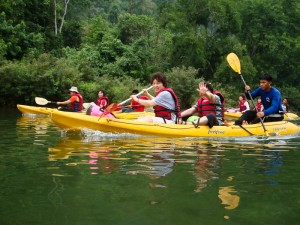 It wasn't long before dusk fell and we were still quite a distance from Vang Vieng. Luckily our flotilla had grown in size and we figured there was safety in numbers. The bars had long since disappeared and we started paddling some more to speed up our travel downstream. Rounding a corner, we saw the lights of Vang Vieng but more to our relief there was a man standing knee deep in the river only a few metres from us. "Tuk tuk to town," he shouted and there were several happy replies. One by one the driver grabbed hold of our tubes and pulled us to the low river bank. We threw the tubes on the tuk-tuk roof and climbed in.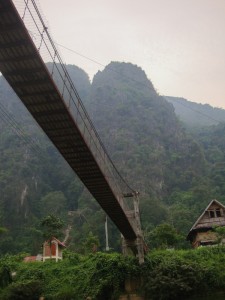 Ten minutes later after tubes had been returned and deposits repaid, Hugh and I made our way back to the guest house. Passing the open-fronted cafes, new arrivals to the town stared at our soggy, ripped clothes and the footprints our drenched sandals left on the pavement. I can only imagine what they were thinking.