Koh Tao really is something. Nestled in the Gulf of Thailand, this gem of an island hosts a vibrant community of mostly western backpackers, a lot of whom are there for the diving.
We arrived aboard the Songserm boat and alighted at the island's main pier. Getting off the boat involved a mighty leap onto the old wooden decking, some helpful Thai hands steadying us as we landed, backpacks weighing us down.
Around the pier, azure waters contained shoals of small fish which gathered around the hull of the boat once it came to rest. Ashore, a mad flurry of locals vied for our business, offering rooms and taxi rides across the island. Settling for a resort called the Asia Divers Hostel, Nicole and I managed to book into a shared dorm for six pounds each per night. There we met a group of English lads enjoying some well-earned holiday time. James, Jack, George and Niall became sound room-mates for the next few days and going out to explore the nightlife was great fun with some new company.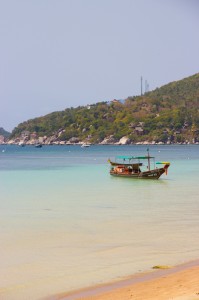 In the evenings, this tropical paradise transforms from a tranquil beach into a hedonistic night scene; out come the buckets and the lasers, and the Thai men arrive with their fire staffs, poi and flaming skipping ropes, and start routines that outmatched anything I was ever able to learn when I used to play around with the kerosene back in university.
A few days in, Eiji came down from Bangkok to join us on the beaches for a while before heading on to Koh Phi-Phi where the film 'The Beach' was shot. Although looking forward to visiting this for ourselves, Nicole and I will probably wait until July when we revisit the country and meet up with my brother.
After a few days of research, Nicole and I decided to book our 'open water' dive qualification. This will let us dive all around the fantastic islands in Asia and further afield, up to a depth of 18 metres. Koh Tao has around fifty dive schools, so competition is fierce and it took us some time to shop around before we finally settled on a good deal. A four day course with two extra fun dives, and four nights of accommodation would run at £150 each, which is significantly cheaper than anywhere else in the world. We start on Monday and both Nicole and I are very excited. In the mean-time we have been out in the bay with some snorkels that we bought, looking at the shallow coral and varied marine life. On the main beach the coral is just brown but we saw some awesome little fish. Some of the larger ones would swim up, kiss me on the arm and swim off. I was a little freaked out to begin with, thinking they would bite but soon got used to the inquisitive behaviour. One fish I have to keep an eye open for though is the Titan Trigger fish, which tends to get angry at the site of tourists. When threatened, it will raise a small fin on its head as a way of telling you 'clear out of the way'.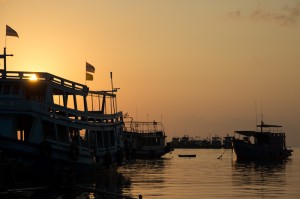 Today we found a much quieter cove which was full of white coral. Feeding amongst this alien field were hundreds of the most beautiful marine fish. Some were pearlescent, whilst others glowed with neon brightness. I saw some which were decidedly two-tone, and others which had zebra-like patterns. In amongst the coral lay long cucumber like creatures and also what looked like black mines, floating above the sea-bed.
As we returned to our room tonight, a large 'THWAK' sounded near our feet. Shining out torches into the gloom, we found that a giant lizard had fallen from the roof of our hostel, two floors, to the concrete floor. Whilst it was stunned I was able to get in close and snap a photo before it regained its senses and ran for the cover of a nearby bush.