Day 1
We awoke early in Pokhara for a 9am departure. Most of our surplus gear went into a storage closet in the hotel for the duration of the trek, and we set foot outside to meet our guide and driver.
Our guide was a Nepalese man called Tanka. He had a masters degree in economics, but apparently found it more profitable to act as a guide. Paid 2000NPR or about £16 a day, he would earn about twenty times the national average wage.
Our driver turned out to own a small car rather than the expected jeep, and so with a bit of grumbling we crammed in and set off on our hour long journey, over hills and through valleys, further and further from any major settlement. As we progressed we could see a visible shift of goods on the road. Lorries carrying commercial goods, metals and the like, were replaced by rickety trucks loaded high with fire wood- the default currency in the mountains.
We were dropped at the roadside in a small settlement called Nayapul. At a small café we were served up a round of Nepalese tea and we got our bearings with help from the guide and our GPS unit, before starting the walk through the sleepy village. Vendors offered us their inflated drinks and high-energy packet foods as we passed, but we declined as we were already fully equipped with food we had picked up in Pokhara.
Tanka led the way, up a muddy path and over a large bridge wide enough for a large truck. We all marched on, the sticks which we hired, chinking on the concrete floor as we walked.
Up ahead of us lay large hills covered in a dense blanket of trees, and somewhere beyond the hills, lay the vast Annapurna peaks which we would see on the third day.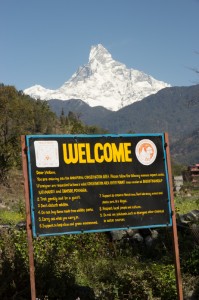 The march was fairly easy going to begin with, but as we climbed higher into the hills Nicole found the weight of her backpack to be slowing her down. We would turn a corner and look up at the road as it climbed ever upwards and Nicole would let out a groan or an exasperated squeak. Soon the fourteen kilos on my back was dragging me down as well, and yet we trudged on. Our march led us twelve kilometres and finally we reached a small settlement called Tikhedunga. A handful of tea houses straddled a river, where a tiered waterfall spilled down the cut in the rocks. Over this waterfall ran a swinging metal bridge, which we passed over in order to drop our bags at the guest house. As we reached the far side of the bridge a convoy of mules came up behind us, laden with goods expected further up the hill.
A long hot shower followed, then a bowl of spaghetti and a victory beer. After dinner Nicole and I wandered back down to the waterfall bridge and spent some time looking at the Milky Way, brighter and clearer than I have ever seen it before. Finally the cold started to bite and we withdrew to our rooms where we promptly passed out.
Day 2
I awoke at 6am as the light began to fall through our mesh curtain. Soon the birds were chirping in an unfamiliar language, and I dragged myself out of my sleeping bag for the promise of a hot shower. No luck. The water came out freezing, and I clenched my jaw and tolerated it as I was already cold from the walk to the outhouse. I returned to the room shivering and dived back under the quilts to warm up.
We took a mixed breakfast in the dining hall. Nicole had cornflakes, Adam an omelette and I chose a cup of hot milk to add to a bag of granola I picked up in Pokhara. Never had a bowl of soggy granola tasted so good!
Our trek today was going to be tough. To begin with we would have to rise over two thousand meters in altitude over just a couple of kilometres. To accomplish this ascent we were faced with an impossibly high, stone staircase which wound up above the village and out of sight. Tanka told us that we would have to climb over three thousand of these large steps before the trail would even out a little, and that would still only put us about a quarter of the total distance needed to reach our target of Ghorepani which lies at the foot of Poon Hill.
Our struggle with our bags yesterday, gave us pause. Nicole and I conferred with the guide and decided it might be best to hire a porter for the day. At least this way we would have a fighting chance of reaching Ghorepani by nightfall! Our porter was a middle-aged Tikhedungun who bound our two rucksacks together and then anchored them to his forehead with a large band. With a forward posture, he set his gaze to the floor and spritely began the ascent leaving us both feeling very unfit.
I still don't quite know how we made it up those stairs. Up we climbed for about five hours, stopping occasionally to pause for breath and a look back at the collection of guesthouses dwindling in size behind us. Slowly but surely we stuck at it and in time the scenery changed from the dusty staircase zig-zagging through stepped fields, through small settlements with dry stone walls, to the first signs of snow banked against the small houses as we neared the top of the stairs. The villages changed as well. The hill folk could be seen doing carpentry, drying seed in the sun and butchering buffalo with long knives. All the while we were met with salutations and smiles as we passed through these people's homes and lives.
At the top of the stairs we stopped for lunch. Previous experience had taught us to order the same dish if you want it delivered a) at the same time, and b) relatively quickly. Unfortunately this tactic didn't work for us today and we waited for a good 40 minutes before our fried rice arrived. As we waited, other travellers we had managed to pass on the stairs before came up and overtook once again, often calling out in good-spirited competition.
After lunch, and a few stretches to get our legs moving again, we were happy to find that the path did begin to even out a bit. Some parts of the hill which faced the wind had frozen up however, and we slowly picked our way over icy and treacherous ground. Our path took us alongside a small stream which frequently fell from high ledges. This was by far the most beautiful part of the journey so far and the snow gave everything a magical feel.
Eventually, after seven hours of walking we came into Ghorepani, our bodies screaming for rest. As we climbed up through the village (on yet another long and terrible staircase), we turned a corner, and there in front of us, providing the perfect backdrop to our home for the night, were the Annapurna peaks. These mighty, white-capped mountains jutted into the sky, dwarfing us and everything else in sight. The grand hills that we had just climbed paled into insignificance, and I felt incredibly humbled. Despite the awe, we had to get into in to the warm, and so joined some other travellers inside the guesthouse alongside a giant wood-burning hearth.
Tomorrow we wake at 4.30am. As long as the weather is clear and not snowing, we will climb for an hour to the top of the nearby Poon Hill. From there we should see at least fourteen peaks as the sun rises in the east.
Day 3
Getting up for five in the morning was a pretty tall order, but amazingly we managed it. Gorhepani lay at the foot of Poon hill, and the promise of spectacular sunrise views of the range got us dressed in as many warm clothes as we could fit on. Armed with head torches we joined a procession of other hikers up the stony, snowy path.
Fresh snow had fallen overnight and this made our climb a little slower than anticipated. We reached the summit just after six, moments before the sun crested over the foothills. Everyone on the hill stood there in collective appreciation of the amazing view that surrounded us, and we spent a good hour taking photos and drinking tea served by a team of opportunistic traders.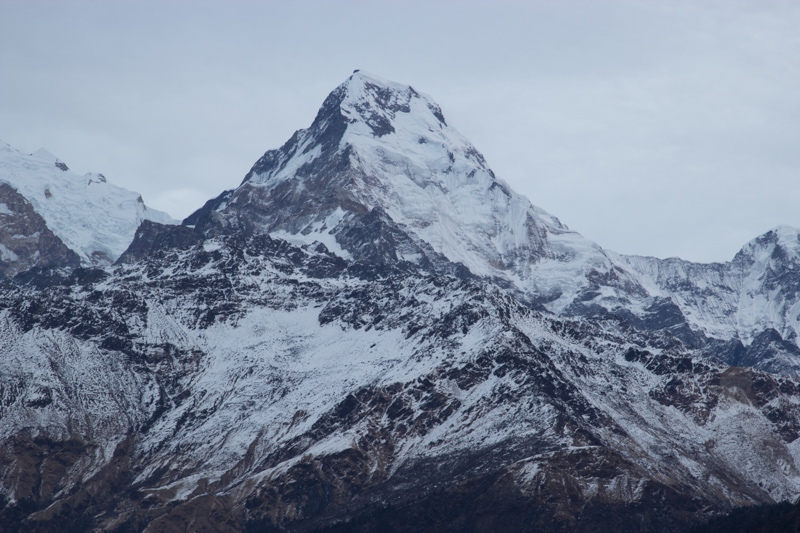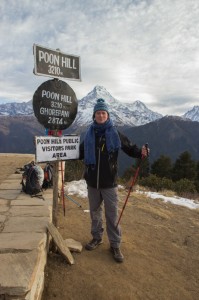 After dawn we headed back down the hill for breakfast. The way down was icy, and each step felt hazardous. It was here that Adam found a huge wizard staff with a forked end. As he neglected to pick up walking poles before, this lucky find saw him down the hill without any problems. It was this walk that convinced us to hire our porter for the second day. Unfortunately at the prospect of another day lugging our bags – this time in the ice, our porter shook his head vehemently and refused. Luckily we were able to find another man willing to bear the load and when Adam offered him an extra ten dollars, he even agreed to carry his bag. The total load must have been 35KG, but this man lifted it like it was nothing. With all our backpacks bound together, he headed out the door and set the initial pace for us to follow!
We trekked east out of the village and into a forested area thick with snow. Horses ran free here, and a poorly behaved group followed alongside us, biting at each other's flanks, and kicking at each other's heads. The stony path we followed climbed up even higher and soon we were on a ridge, again looking north at the insanely massive mountain range.
We must have trekked for a good four hours before stopping for some lunch and our route took us slowly down into a thick forest. The path was icy still and we had to take extra care so the going was slow, but soon we came to a river which we followed more easily for some time. We passed many waterfalls, one of which had icicles suspended alongside the flow of water. This had to be the freshest air I had ever breathed, and the only sound in the forest was the crack of twigs under our feet and the occasional call from a distant Yak.
After lunch we hit the mud. Hours of hard slog took us up muddy hills and then back down again. At one point we ascended again and came around the side of a hill. Below our sheer path stood distant foothills, and circling nearby, a massive eagle hunting for its next meal. After a few turns it issued a cry and soared into the distance.
We came into Tadipanni around five in the afternoon, and after dumping bags and taking warm showers, we had some dinner. Here the prices were massively inflated compared to anywhere else so far, mainly due to its remoteness. Even if I wanted an expensive beer though I didn't get the chance. After eating I felt so shaky I hit the sack at an early half eight.
Day 4
Today we got up at a leisurely eight am. I peeked out of the curtain and what was thick fog the previous night, had been replaced by the side of a mountain. Awesome.
We left the tea house by nine and began a muddy walk back into the forest. Soon, the mud dried up and the path dropped slowly but steadily into warmer woodland.
I don't remember too much about the rest of the day, because shortly after we fell into a steep descent, down uneven and jagged rocks. This lasted for about six hours and was really heavy on the quads and feet. By the time we were halfway down and stopping for lunch, my knees felt swollen and we were all cursing the infinite staircase both strongly and loudly.
A dog began to follow us down, darting in front of our legs as we struggled down, then hopping away onto the wall before disappearing for a minute or two only to return. The dog took a real liking to Adam and after he was almost tripped and sent tumbling down the steps for the third time, he emptied his bottle of water over the creature to try to get it to go away. No luck, the dog just stood next to Nicole and shook off the water all over her, then ran back to Adam's heel.
Finally we came to the bottom of the steps and encountered a large mother goat stood in the middle of the path, guarding her newly birthed offspring. We carefully passed by the side and the goat gave us a wary but permissive look. No such luck for the dog however, who on trying to creep past was chased away by a very angry and protective mother.
We had arrived in Syauli Bazar, a small collection of homes and guesthouses that sat flush to a fast river with rapids that frothed and surged. Dinner was served just after dark and we all had a massive helping of Dhal Bhaat, a lentil curry which keeps getting refilled by the waiter.
Tomorrow we have been promised a fairly flat walk of only two hours, then back to the car and on to Pokhara for some good food and a solid sleep!