Our taxi slipped out of the airport and into the flow of traffic headed down the main motorway toward the centre of Bangkok. The road was smooth and quiet, and for the first time since leaving the UK, I had a very real sense that we were back in the modern age. Large, glass-walled skyscrapers dominated the landscape – including one building which looked suspiciously like the PS3, and a multi-coloured spectrum of lights and adverts lit up the pervasive darkness. Street corners had been taken over by 24 hour supermarkets and I was pleased to see both men and women present in the streets even at a late hour – something which was never seen in India or Nepal.
Our hostel, called Saphai Pae, was located in the financial district, conveniently close to a monorail station which extended travel to nearly all the good spots in Bangkok. If the monorail didn't go somewhere then there were taxis available at a cost of only a few pounds, or alternatively we could take a ride up the river on a water taxi. The hostel was spacious, clean, and quiet. We had a shared dorm all to ourselves for the first few nights, eventually getting some German room-mates at the end of our stay.
Another novelty of Thailand which we immediately appreciated, was the fact that the power stayed on at all times, and that internet access was once again incredibly fast. This all reinforced that feeling that we had in some ways re-joined the world that we were used to (but with Asian style) and having this infrastructure available came as a relief after months in fairly backward locations.
We left our bags at the hostel as soon as we arrived that first night, and took a taxi cab up to Kho San Road. This area of the city is known well for its varied nightlife. In the small space of a few blocks, thousands of tourists and Thais alike, teem through the narrow streets. Spirits are served up from pop-up bars in children's sandcastle buckets, and the sight of a band of westerners weaving toward us with straws sticking out of their toy buckets made for a hilarious sight as we climbed out of the taxi. From brick and mortar bars came the sounds of live music, and several performances spilled out onto the streets. Further down the road nimble, acrobatic street dancers jumped long columns of tourists that had laid down for the spectacle. Pushing through the crowds, came straw-hatted old women, hawking fried spiders, crickets, cockroaches, scorpions and frogs from long steel trays.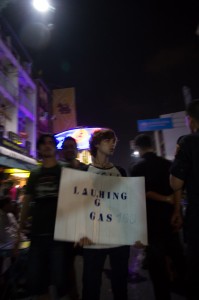 Of course, none of the afore mentioned curiosities quite match up to the shock of wandering into the wrong neighbourhood and coming face to face with a line of cajoling young women named Lola! Thankfully Nicole had me by the arm, but our friends were not so lucky and were set upon with some rather firm handshakes.
Toward the end of the night we sat at a small pop-up bar by the side of the road. Beers were served from a tray loaded with ice, which was set inside a repurposed green recycling bin. It was only when we were sat on stools at the side of the road enjoying our refreshments and the lights of a police car turned into the street, did we realise that these types of stall were illegal. All of a sudden the bar staff jumped into action. The bin lid came over and down over the stock and was wheeled to the side. The stools were gathered in a heartbeat and the subsequent tower stashed in a shop doorway of a shop. As the police crawled by the staff ignored them, chatting loudly to each other, and as soon as the lights disappeared everything came back out again as fast as it went away!
The street food in Bangkok is fantastic. Hot plates are washed in large plastic boxes and then applied to large gas burners, where the cooks throw noodles, vegetables, meat and fish together to make amazing dishes called Pad Thai. Varying amounts of chilli make this either very enjoyable or burn your head off, so a bit of directorial input is recommended to get the most out of your hard-earned baht.
The following days were spent exploring the Buddhist temples which dot the city. Dripping with silver and gold, and all so impeccably clean, we enjoyed strolling the manicured gardens and surveying the giant Buddhas which either sat, or reclined across the expansive temple rooms. One temple was so steep that you had to pull yourself up its stairs using a rope for aid.
A stroll into China town was a bit of a culture shock, especially seeing so many restaurants specialising in shark fin soup and displaying the massive fins in their windows, and others presenting bird nests as yet another delicacy that I don't think I would have the heart to try.
We finished off our visit to Bangkok in the Chatuchak Weekend Market. This indoor market spanned a small network of roads and was packed with thousands of people. We managed to get lost inside several times, and were amazed to find an animal market deep in the depths that sold toy dogs of all varieties. Here we stocked up on some fresh clothes ready for the beach, and snacked on yet more excellent street food including a coconut ice crème served in an actual coconut.